Kummer K50
High precision, high precision, high productivity compact turning center
The machine
The turning center Kummer K50 has been designed to fully release the accuracy, speed and acceleration potential of linear motors. The LINEAR SLIDES KINEMATICS LSK concept similar to well proven K250  enables up to 10 m/s² accelerations for repositioning accuracy.
Steel frame monobloc main base filled with water based concrete resting on 3 support pads with no need for foundation ties, optimally designed for cutting fluid and chip evacuation through its center to the back.
Unproductive time reduced by over 50%.
Integrated and thermally stabilized linear motors.
Direct measurement of the slide movements by two absolute optical glass scales (resolution 0,01 µm).
No residual faults from the ball screws.
The Spindle
Several mobile direct drive spindles are available, according to the requirements of the specific machining solution. The speed range goes from 8'000 rpm to 20'000 rpm. The spindle can be equipped with steel or ceramic precision ball bearings or hydrostatic bearings.
The most frequent applications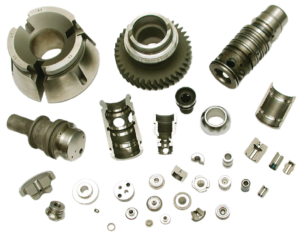 K50
Type
Single spindel turning machine
Guideways
High precision central-lubricated preloaded roller bearings
Drives
Linear motors
Acceleration
10 m/s²
Rapids
up top 50 m/min
Slides motion measuring
Direct reading on optical scale. Water and chip exclusion guaranteed by air flow.
Measurement resolution
0,01 μm
Workheads
Direct drive ball bearings
From 8'000 to 20'000 rpm
Numerical control
Siemens 840Dsl
Floor space
1'280 x 800 mm (without cooling unit)
Weight
Approx. 1'800 kg
Options and accessories
Pneumatic side autoloader